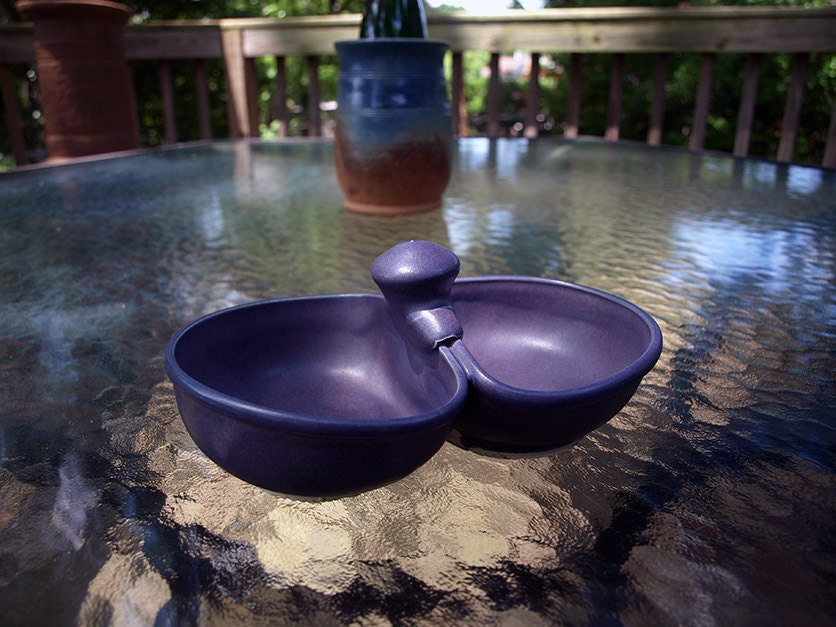 by FutureRelicsGallery (35.00 USD) http://ift.tt/1zyy3Co
Have you ever seen a luna moth? They are quite rare to see because they only live for 24 hours and are only out at night. Janet and I saw one at the train station early one morning when we were leaving for vacation several years ago. We were both thrilled and thought it was a good omen for our vacation and it was. We had a great time in Key West and even visited a butterfly house where I carried a butterfly on my shoulder for most of the visit. I was told this is a lucky thing. I guess people associate lots of luck with moths and butterflies.
I think they are beautiful and mysterious, rare and fascinating.  So I've commemorated them on this mug.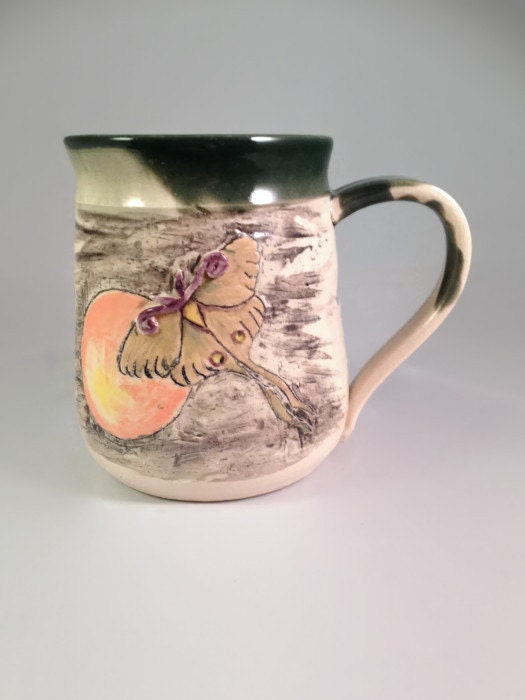 by FutureRelicsGallery (38.00 USD) http://ift.tt/1qAS9s0
This is one of the pieces that I did with some embellishment and carving for relief. I wrote about them here when I first made them. You can read more about this mug in my Etsy Store.
by FutureRelicsGallery (55.00 USD) http://ift.tt/1st6vdC
I first wrote about this casserole a few weeks ago, you can read about it here.  It seemed like a fun way to use faceting and like the glaze would play nicely on the surface.  The handle and the knob on the lid all have texture that complements the body.  I feel like it came out pretty well.  I might even make a few more and let other glazes play on the surface.
If you'd like to see more pictures of it, or if you'd like to buy it, you can find it in my Etsy shop.
Thanks for looking.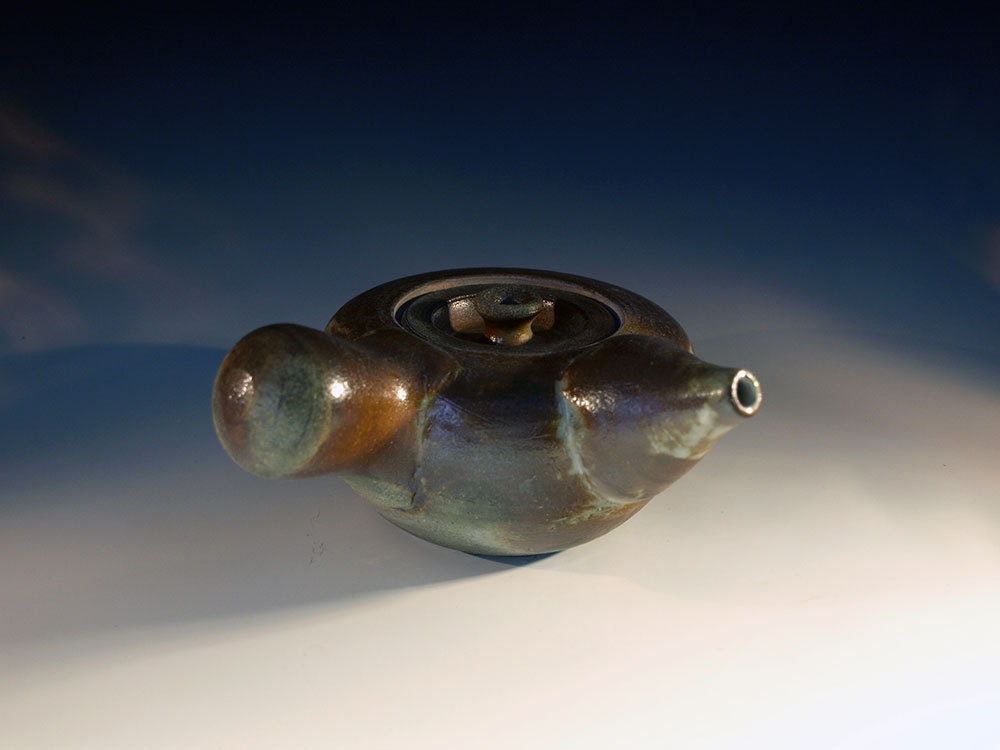 by FutureRelicsGallery (60.00 USD) http://ift.tt/1CP8Fc2
Today's tea pot is a small side handled tea pot. The side handle is an Asian design. I like the way it looks and I like that the handle does not get in way when you're filling the tea pot with boiling water. Yes, you could just put this pot in the microwave and heat the water that way but sometimes it's nice to use a tea kettle and listen for the whistle.
When I made the first set of travel mugs several readers commented that they are left handed and the mugs wouldn't work for them (actually, you can drink out of either side of these travel mugs so it's okay), which got me thinking. When I make other mugs I make some left handed and right handed but what about tea pots? I'm ambidextrous when drinking out of a mug but not when pouring tea. So I made this little tea pot so that left hand dominant people can use it comfortably, but I also made it small enough that it should be comfortable for a right handed person to use, just with their non-dominant hand.
The tea pot was thrown with Highwater's Orangestone clay and fired in the wood kiln at Penland School of Crafts this past winter.  You can see more pictures of it in my Etsy Store.

Frida Kahlo, Mexican, 1907-1954, Self-Portrait with Monkeys, 1943
Oil on canvas, 81.5 X 63 cm, Gelman Collection. © 2012 Banco de México
Diego Rivera Frida Kahlo Museums Trust, Mexico, D. F. / Artists Rights Society (ARS), New York.
Location: Wieland Pavilion, Cousins Family Special Exhibition Galleries
Frida & Diego: Passion, Politics and Painting
February 16, 2013-May 12, 2013
Few artists have captured the public's imagination like Mexican painter Frida Kahlo (1907–1954) and her husband, the Mexican painter and muralist Diego Rivera (1886–1957). The myths that surrounded them during their lifetime arose not only from their significant body of work, but also from their active participation in the historical happenings around them.
Frida & Diego positions the artists' work within the political and artistic contexts of their time. Their art speaks of a fierce loyalty to and pride in Mexico, the ideals of the 1910 Mexican Revolution and their commitment to the conditions of the common man.
The exhibition features more than 75 works primarily drawn from the collection of Mexico's Dolores Olmedo as well as the Jacques and Natasha Gelman Collection of Mexican Art.
The High Museum of Art will be the only U.S. venue for this exhibition, and is accompanied by a full-color catalogue. The exhibition premiers at the Art Gallery of Ontario in the fall of 2012.
Key paintings by Frida Kahlo featured in the exhibition include:
• Hospital Henry Ford (Henry Ford Hospital), 1932
• Autorretrato con Monos (Self-Portrait with Monkeys), 1943
• La Columna Rota (The Broken Column), 1944
• El Abrazo de Amor de el Universo, La Tierra (México), Diego, yo y el Señor Xólotl (The Love Embrace of the Universe, the Earth (Mexico), Diego, Me and Señor Xólotl), 1949
Key works by Diego Rivera featured in the exhibition include:
• Autorretrato (Self-Portrait), 1930
• La Canoa Enflorada (The Flowered Canoe), 1931
• Vendedora de Alcatraces (Calla Lily Vendor), 1943
• El Joven de la Estilografica (Portrait of Best Maugard), 1914
Exhibition Organization and Support 
Frida & Diego: Passion, Politics and Painting is co-organized by the Art Gallery of Ontario, Toronto; the High Museum of Art, Atlanta; and the Museo Dolores Olmedo, Mexico City, in association with The Vergel Foundation, The Jacques and Natasha Gelman Collection of Mexican Art and Galería Arvil.
MudFire Gallery and ceramicist Kathy King have joined forces to create a very special exhibition that will coincide with Atlanta's 42nd Annual PRIDE Festival. Kathy was kind enough to curate the show and select artists for this invitation. Participating artists were asked to create work in a show of support for the LGBT community. The results are humorous, heartfelt, insightful, affectionate and occasionally off-color.
We'll kick off the exhibit with a celebration and artist reception on Friday, October 12, 2012 from 5:00 – 9:00 pm.
Work will post in preview mode by October 8, and will be available for purchase starting Noon on Friday, October 12, 2012.
Participating artists were invited, regardless of their own sexual orientation, to show their support of the LGBT community by sending 1-2 works of art. The show opens the same weekend as Atlanta's 42nd Annual PRIDE Festival being held October 13th-14th. If you have ever been to Atlanta for PRIDE you know it is an incredible event with one of the most spectacular parades in the country with over 5,000 very colorful people attending the festival!
In the spirit of PRIDE, we requested works for the show that celebrate or reflect upon the LGBT community, but that could also address themes of tolerance and diversity. Artists were invited to to take aim at their favorite bigots, to employ humor, wield sarcasm, affectionately document, or just show their colors.
The resulting exhibit is as diverse as the community it celebrates, and certainly one of the liveliest we have had the pleasure to host. We hope you enjoy it as well!
I have been honored with an invitation to show my work in this event, please come by on Friday so we can visit, I'd love to see you.
Lavish and Lush
August 11- September 29, 2012
Baltimore Clayworks is honored to be hosting Lavish and Lush a traveling show from the National Council on the Education for Ceramic Arts conference.  We are excited to present such a tremendous opportunity to showcase the best in ceramic arts.
Abstract
"Lavish and Lush" is an exhibition of experimental sculptural works and small installations that are both excessive and obsessive in concept, composition, and materiality. Each artist in this exhibition possesses a lavish and lush aesthetic, creating prolific works wrought with sumptuous surfaces, ornate renderings, and sensual textures that are both visual and tactile feasts. Like feast on food, one feels comforted and nourished, but if the consumption continues the experience shifts uncomfortably to one of over consumption and repulsion.  The works in this show straddles this edge with an opulent surplus of form and surface.
Featured Artists:
Susan Beiner (AZ), Jason Brigg (TN), Erin Furimsky (IL), Julie Moon (Ontario, Canada), Rain Harris (KS), Tammie Rubin (IL)
Solo Gallery
Cup Benefit Exhibition: August 11- September 1, 2012
Gala Auction Preview Exhibition: September 8-28, 2012
Exhibition dates: 

June 1 – July 28
Artist Reception,  First Friday June 1, 6-9pm
Ceramic Workshop with Sandi Pierantozzi: June 2-3
Email gallery@plinthgallery.com to sign up!
Pierantozzi's functional work comes from a deep appreciation of food, celebration, and setting a beautiful table. She feels that "pots help me connect with people on a very basic human level" by communicating some creative life into the daily rituals of eating and drinking Sandi believes that a hand made ceramics contains "the soul and energy of the maker" and that with use, a real human connection is made. These connections between people are essential to keeping alive the soul in all of us.
Neil Patterson ceramic constructions honor the handmade object and the simple daily rituals of use. He makes pots that are designed to be used and enjoyed. Through their carefully considered volume, weight, surface and textures he hopes to provide a slow, savory experience for the user. There is always an evidence of the soft material, clay, often bolstered by a formal or architectural structure.
Sandi Pierantozzi will teach a 2 day participatory workshop at the gallery presenting her innovative approach to form and surface at the gallery June 2-3. This weekend workshop will focus on using slabs, texturing the surface, and then by altering them through techniques such as darting, creating interesting and innovative forms. Please call the gallery for more information and to register for this highly instructive workshop. Graduate college credit is available through Adams State College.
Save the date! Friday, June 22, MudFire Gallery proudly presents "Finding Familiar", a solo exhibit by ceramic artist and designer, Mark Errol.
Mark's work, while never shying away from its roots in function, unwraps like a rich tapestry of color and texture rather than just clay. Expertly thrown and imbued with the sensibility of an seasoned quilter, the work is a happy patchwork of varied symbols, color and pattern.
The pieces are almost impossible to put down without a 360 degree examination and nostalgic consideration of a familiar pattern, shape and sense of place.
Preview the Mark Errol Exhibit